Cell Phone Security – How to Secure your Phone and Stop Spy Software Apps
Preventing your smartphone from getting equipped with any kind of monitoring software can easily be done, provided you follow the simple steps to keep your smartphone secured. The following article is a part of my previously written article – How to check for Spy Software followed by an another piece of article > How to Remove Spy Software from Your Cell Phone. So let's learn the ways with which you can prevent and protect your smartphone from the cell phone monitoring software.
Who Needs to Secure their Cell Phone?
Majorly, the ones who have recently faced any kind of privacy breach on their smartphone would keenly wants to keep their cell phone protected. And preventing it from the spy software is their utmost need. Because a cell phone monitoring software can very easily divulge all the text messages, phone call records, saved notes, phonebook contacts, private photos and videos, web history, instant messaging chats such as WhatsApp, Snapchat, Viber, WeChat, Facebook, BBM and many more.
Despite knowing the fact that saving or storing the confidential information like bank account details etc. is unsafe, majority of people save their bank details into their smartphones because it's easily accessible in comparison to reaching out the Debit/Credit card. Hence these crucial details can be leaked in fraction of a time if a spy application is planted onto your smartphone.
The popular spy programs like FlexiSpy, MobiStealth, mSpy and Highster Mobile lets you reach out to the information in a clandestine way. Although these programs are a great help for all the anxious parents for monitoring their children and also for all the employers who wish to monitor their employees activities during the working hours but on the other hand this application can be used to track the crucial information out of the target's smartphone.
However there are certain rules that needs to be followed before using a spy software but there are some young offenders who fail to follow and thus create a ruckus for themselves as well as for the monitored person. So let's now take a brief look for the steps that can be used to protect and prevent the mobile phone from installing such monitoring software.
Easy Steps to Protect Your Cell Phone
Protecting a cell phone is absolutely in one's own hands. No matter how much careful we are for our mobile phones but we easily handover our cell phones to our friends and family. And not to forget they're the ones who would always be curious to know about your cell phone activities. Therefore the first very step is to let your mobile phone be under your control. Never let anyone use your smartphone unnecessarily. "I'm just playing a game on your phone is the most common excuse that one makes to clutch your phone for at least 5-10 minutes. This amount of time is sufficient for downloading and installing a spy app onto the target's smartphone.
Password Protect Your Phone and Lock It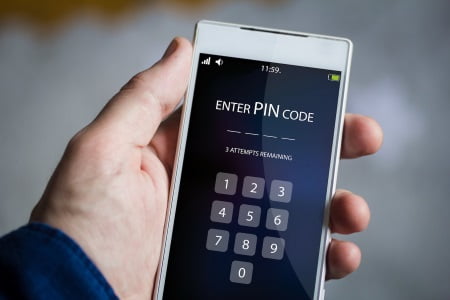 Many of us will keep our smartphone's password protected but amazingly the password is known to all the ones who are special [family and friends]. Hence keeping a password and making it known to all is of no use. DO NOT disclose your password and even if you did under some circumstances then make sure that you change the password immediately. Try not to keep the predictable passwords or passcodes. Such as DOB, House number, car number, or some patterned digits [0003, 0606 etc.].
Some of them do not put a password at all on their smartphones. All the smartphones allow you to secure your phone and its data by keeping either a pattern lock or passcode lock. This is one of the easiest mechanism to let your phone be prevented from any kind of fiddling by a stranger or closed ones. It is also advisable to keep changing your passwords and set an unconventional passwords.
Lock Your Phone with Apps
Allow your mobile phone to get locked within 15-30 seconds, the options are within the phone. Especially if it's unlocked and unoperated let it have a timer set that will automatically lock it. One can check the apps on Android's Play store or iPhone's App store for the applications that can completely lock the phone as well as the installed applications.
Some of them are Screen off and lock, Lock screen widget, Mind wallet and mSecure password manager. Always remember that when you're choosing such applications then download the ones which has a higher number of downloads along with good user rating stars.
My Favorite Security Step
App Notifier for Android users is a best application to withhold your mobile phone from installing any tracking software. An email notification will be sent to you if any software is downloaded on the smartphone. Hence you can always be informed what's going on in your smartphone. The best part is that this application is available for free. For iPhone user's Secret Safe Vault locker is a good application to safeguard the crucial information saved in the mobile phone.
How to Secure an iPhone Against Spying Software
However the above mentioned steps are no different for an iPhone user. Abiding these steps will certainly help you keep your smartphone safe. Anyway apart from these measures you can simply check if your iPhone is jailbroken or not. It is because any spy app will only get installed onto an iPhone if it's first set free from the manufacturer's imposed limitations. This process is called jailbreak.
So if you find your iPhone is jailbroken and it's not done by you then you must check your smartphone for a spy app. In case you cannot spot the spy software then simply update the operating system of the smartphone. Updating an iPhone will automatically uninstall the monitoring software and also restore it to the factory settings.
Be Smart!
Use the passwords that are strong, never leave your phone unattended. Do not share the passwords set on your phone. Ensure you frequently change your passwords and notice for the abnormal behaviour like quick battery drainage, windows getting crashed abruptly, or phone getting switched off despite full battery. For all such observance simply update your smartphone by keeping the backup of your crucial data. Updating the OS will help uninstall the spy application.
Search for the application locker apps as well. Most importantly secure your smartphone with a password that is known only to you. These simple steps will help you stay away from becoming a victim of the spy applications. If you have any other preventive measure or question then do share with us in the below mentioned comment section.